Best Knee Replacement Surgery Hospital in Thane West
Pinnacle Orthocentre Hospital is leading India's one of the Best Knee Replacement Surgery Hospital in Thane, provides cost-effective knee Replacement Surgery, Shoulders & Hip Replacement Surgery at an Affordable price with High Success Rate.
Medical experts consider knee as one of the largest and very complex joints in the human body. The knee plays a critical function for the body by connecting the thigh bone and shin bone. Other smaller bones also connect with the knee making the knee joint. Tendons and ligaments also join the knee bones to muscles and helps in movement and stability of the knee.
It is also regarded as a weight bearing joint. Thus a perfectly functioning knee joint is necessary for the human body to move and live an active and healthy life. However, different factors affect knee joint and may cause knee pain.
Pinnacle Orthocentre is one of the leading hospitals in Thane, Mumbai which provides world-class, cost-effective and advanced treatment solutions to patients. Use of state of the art technology and latest surgical techniques are some of the highlights which has paved the way for high success rate and helped countless patients.
It is well-known as one of the trusted and best hospitals for knee replacement surgery and post surgery care.
For more details, Contact us at any time.
Looking for the Best Knee Replacement Surgeon in Thane?
Now that you are well aware about all facets of knee replacement surgery, do not hesitate to consult the best knee surgeons in Thane. Pinnacle Orthocentre is one of the best total knee replacement surgery hospitals in Thane with a great track record of treating patients successfully. Also, the use of computer navigation in knee replacement surgery has many benefits as discussed and the team of doctors at Pinnacle Orthocentre use latest technique for treatment and care of patients.
Dr Yogesh Vaidya is a fellowship trained Joint Replacement Surgeon, using Aesculapius Orth pilot navigation system for all primary and revision knee replacement surgeries.
To know more details regarding latest procedures, treatment approaches and to book an appointment, contact us today.
Knee Pain
Knee pain affects a large number of people all across the globe. In India, people of all ages suffer from knee pain and problems. Several factors such as injuries, cartilage breakage and ruptured ligament can cause knee pain. Other medical conditions like arthritis and infection also result into knee pain and discomfort.
If you consult the best knee joint replacement surgeons in Thane, Mumbai they will advise self-care measures, physical therapies, medications and support like knee braces for your condition initially. However, if your condition does not improve, surgery will be recommended for complete relief. If that's the case, knee replacement implants will be used to replace the damaged parts of your knee joint. Find out more about knee implants below.
Implant Types Used By Hip and Knee Replacement Surgeons in Thane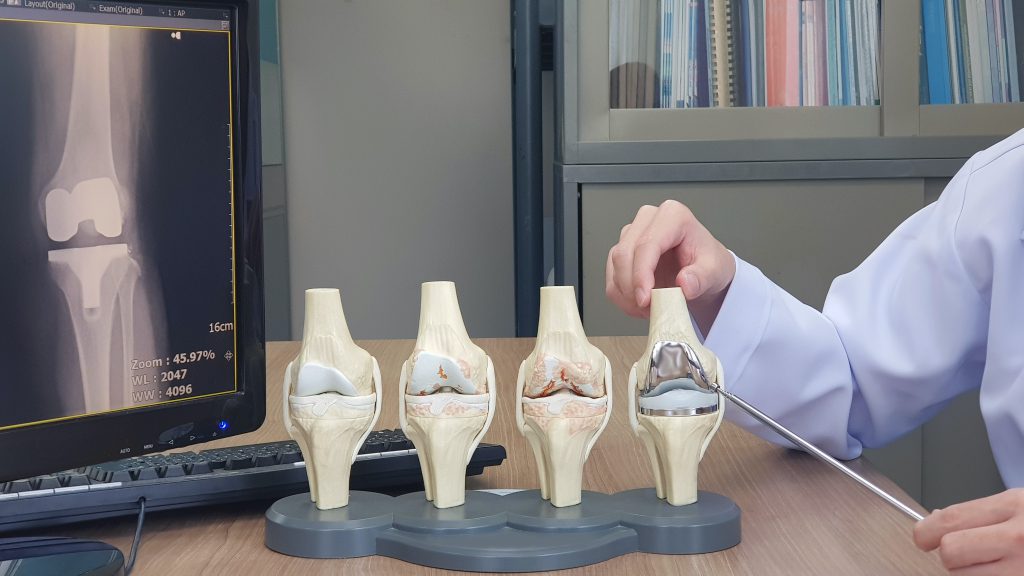 Depending on the surgeon, severity of your condition and other factors, different implant types are used for total knee replacement surgery. These are divided according to the materials used for constructing implants.
Metal or plastic.
This is the most common type of implant articulation. It involves a Metallic Femoral component that rides on a Polyethylene plastic spacer attached to the Tibial component.
Metals
Metals that are commonly used by surgeons for knee replacement surgery include titanium, cobalt-chromium combination, zirconium and oxinium. Some of the benefits of using metal implants are that they are less expensive, have good life span and are very safe.
Cobalt-Chromium
Cobalt-chromium combination or alloy is one of the most commonly used metal implants for knee replacement according to experts. However, it is known to cause the possibility of allergic reactions, although rarely in people with allergy to certain metals. This possibility arises from the fact that metal ions are released into the human body when the joints move.
Titanium and Titanium Alloys
Titanium and titanium alloys are used in knee implants depending on the requirement of the patient. Knee surgeons generally opt for pure titanium in cases where high strength implants are not necessary. However, titanium alloys are bio-compatible and thus extensively used across the globe. One of the most used titanium alloy goes by the name Ti6Al4V.
Other characteristics of titanium and titanium alloy like corrosion resistance, inert material and elasticity helps the implant act more similar to natural knee joint and thus is considered very effective and useful.
Zirconium
Zirconium made implants have considerably longer life span of 20 to 25 years which is higher than 15 to 20 years found in cobalt-chromium alloy. Also, it is bio-compatible in nature and thus helps patients with allergy to nickel and cobalt-chromium alloy. Thus, knee replacement doctors in Thane, Mumbai may often use zirconium implants for patients with allergy problems.
Cemented and Uncemented Implants
Different fixation types are used to keep the implant in the correct position on the knee surface. Depending on the fixation, knee implants are either cemented or cementless. Implants are designed to attach to the bone without using cement as well. In such cases, fixation depends on the bone growth to hold the surface of the implant. In knee replacement surgery hospitals in Mumbai, Thane and throughout India, cemented implants are majorly used in knee replacement.
Oxinium
Oxinium, also referred to as oxidized zirconium, is a relatively new metal implant material used for knee replacement surgery. Its properties like high tensile strength, increased hardness than cobalt-chromium, better quality and less friction makes it a great choice among surgeons. Moreover, it is known to last long.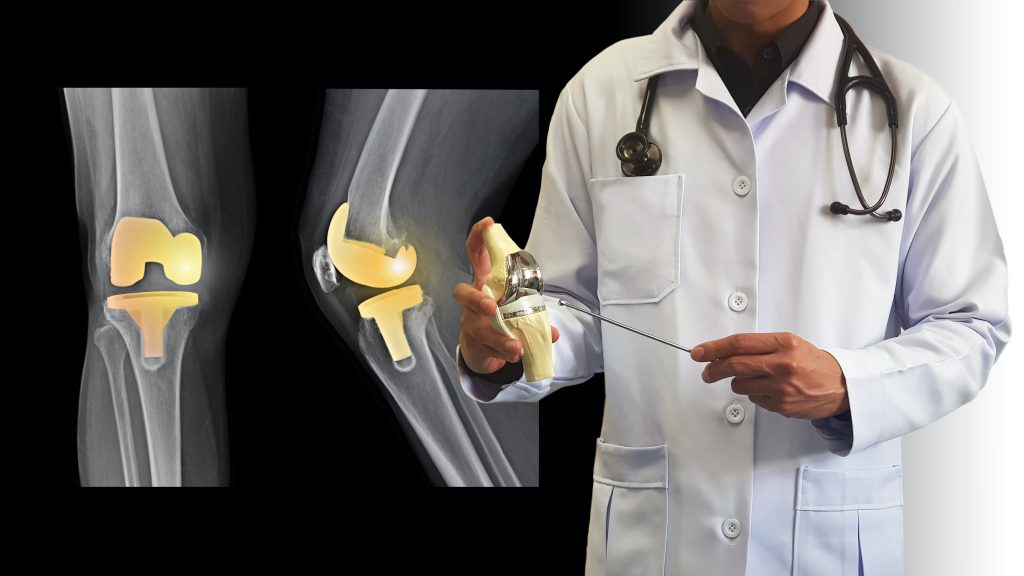 Those people suffering from knee pain and requiring knee replacement surgery often face problems if they have allergy to certain metals. However, they can greatly benefit from the golden knee replacement which has a coating of Titanium Niobium Nitride (TiNiN). The enhanced coating boosts performance and improves longevity feature of the implant.
If you want to know more about the implants used for knee replacement, consult only the best doctors for Total knee replacement surgery in Thane. The experienced and qualified knee surgeons will be able to recommend best implants according to the latest research and studies. This will exponentially increase the success rate and help patients to recover and lead a normal life again.
Pinnacle Orthocentre comprising a team of highly-qualified medical experts, experienced doctors and caring professionals makes it the most trusted and best hospitals for knee replacement surgery. You can find best medical consultation; get advanced treatment approaches, seamless communication and services and much more here. For details, contact today!
Advancements in Knee Replacement Surgery
Total knee replacement surgery has become a highly successful procedure in the medical field to treat knee joint damage and knee pain. Innovations in the past many decades have led to the development of technologies that have made the procedure simpler and effective. Moreover, implanted joints last longer now and the mobility of the patients have improved to the degree that it feels natural.
Other facets like stability and balancing are continuously under study and new methods such as minimally invasive surgery have evolved to make the procedure more helpful. It is known to provide many advantages such as:
1. Small Surgical Cuts and Few Stitches
2. Less Blood Loss
3. Faster Recovery
4. Shorter Hospital Stay
5. Less Scarring
6. Lesser Complications
7. Less Postoperative Pain
Computer Navigated Minimally Invasive Knee Replacement Surgery-
Total knee replacement (TKR) surgery has become a commonly performed and highly successful surgical procedure for end stage knee arthritis. Recent technological innovations have improved both early and long term results and survivorship of the implanted joints.
New implant designs have provided for greater and more normal range of motion and more natural feel. Better understanding of the role of the ligaments about the knee has resulted in improved joint stability and balancing.
Minimally invasive surgical techniques are evolving to speed the rehabilitation process, shorter hospital stays, less time on a walker, and a quicker return to normal function. Less postoperative pain and a smaller scar (improved cosmesis) are also by-products of minimally invasive surgery.
Computer navigation guiding the surgeon through the journey of implantation of a total knee replacement just like the GPS enabled navigation guiding the driver throughout the journey . Through infrared sensing of patient anatomy using trackers attached intraoperatively to patients thigh(Femur) and the leg (Tibia) bone, the computer can precisely advise the surgeon as to the exact location new knee implants should be positioned.
This technology carries the promise of improving the precision of total knee replacement surgery, thus, improving the short and long-term performance of the knee replacement as one of the most important cause of failure of a Total Joint Arthroplasty is Malalignment.
Surgical Technique
The surgical technique of computer navigation starts with the use of an infrared sensor marking and mapping the anatomy of the arthritic knee and adjacent bony structures (the femur and tibia) called Registration. Through the use of sophisticated software the computer is able to create a 3D image of the patients knee joint and ascertain the position of the knee in space and detect and quantify any deformities or bone loss. It then, with input from the surgeon, can determine what changes need be made via bone cuts and ligament balancing so as to position the new artificial knee in the proper anatomic alignment.
The computer gathers a three dimensional image of the anatomy of the knee preoperatively and the intended anatomy of the knee at the completion of surgery. It is the surgeon's job to interpret this data so that at the completion of the procedure normal patient anatomy is established as precisely as possible. This will provide the opportunity for the patient to regain the maximum function and motion possible.
Computer Navigation in Knee Replacement Surgery
Computer navigation is used in minimally invasive knee replacement surgery. It closely resembles the GPS technology which helps the driver throughout the journey. In knee replacement surgery, computer navigation comprising infrared sensing and trackers assists knee surgeon in positioning the knee implant at the correct location. This promises to boost precision and consequently the performance of the implant and makes knee replacement surgery successful.
Surgery Stages Involving Computer Navigation
Best knee replacement surgeons in Thane now extensively use the power of computer navigation to perform knee surgery. In the first stage, computer navigation uses infrared sensors and mapping technology to map the anatomy of the knee and related structures of the patient. The second stage involves the use of advanced software which creates a 3D model of the knee and identifies deformities, damages and bone loss. With the assistance of computer navigation and assessment of data collected the surgeon determines the changes to be done on the bones and ligaments so as to fix artificial implant. This completes the last stage.
Pinnacle Orthocentre consists of highly-qualified doctors who perform best total knee replacement surgery in Thane, Mumbai using advanced technology and latest techniques.
Advantages of Computer Navigation
Find advantages of computer navigation in knee replacement surgery.
Small Incisions
Computer navigation helps the surgeon to make smaller incisions and perform complete surgery. This is the reason why it is known as minimally invasive surgery procedure. Plus, it gives protection to quadriceps muscle and tendon during the procedure which is a major highlight. Also, the necessary bone cuts are more precise with computer navigation systems.
Rod Elimination
For a long time, knee replacement surgery involved the inclusion of a rod in the intramedullary canal inside the bone to reduce the risk of fat embolism. It is regarded as a standard method among medical experts for aligning cuts. However, the computer navigation system eliminates the need of the rod and helps in keeping the procedure minimally invasive on the body of the patient.
Ligament Balance
Ligament balancing is perhaps one of the greatest advantages in knee replacement surgery. Prior to this, balancing the ligament post the knee replacement surgery was considered as a daunting task. In traditional surgery methods, knee surgeon would perform balancing of ligament on purely the gut feel. Only the experienced surgeons would be able to succeed at tautness of ligaments, although results are completely a subjective matter. Computer navigation has made it possible to quantify balancing of ligament to the nearest of millimetres thus significantly improving ligament tautness.
Alignment Systems
Excess deformity of the bones above and below the knee can make it difficult or impossible for traditional alignment systems to be used in total knee replacement surgery. The reason is that intramedullary systems require a femoral and tibial canal without obstruction. In addition, presence of the hardware such as plates, screws and rods in the bone as a result of previous surgery also blocks the canal. However, with computer navigation system, intramedullary canal is not required.
Moreover, various studies have shown that problems with alignment outliers are completely removed with computer navigation as its accuracy shrinks the post-operative outliers.
Disadvantages of Computer Navigation
Some disadvantages of computer navigation are discussed.
Procedure Cost
Use of computer navigation in knee replacement surgery increases the cost of the surgery procedure. This is due to the huge investments knee replacement surgery hospitals in Thane make in navigation system to provide advanced treatment and care to patients.
It is worth mentioning that these technologies do not incur any additional cost for the patients. However, it is a concern for overall healthcare industry in the country.
Procedure Time
Another possible disadvantage of computer navigation assisted knee replacement surgery is the increase in the procedure time. Many knee surgeons who have performed computer navigation knee replacement surgery opine that additional 15 minutes is required to complete the procedure. Also, according to experts, more surgical time would mean more chances of infection.
But studies conducted in the past have found no increase in the infection rate when patient undergoes computer navigated knee replacement surgery as the extra time taken is very less.
5 Exercises to Help Relieve Knee Pain