Orthopaedic Surgery at Pinnacle Orthocentre Hospital, Thane
Orthopaedic surgery is a specialized field that focuses on the diagnosis, treatment, and management of musculoskeletal conditions and injuries. It plays a crucial role in restoring mobility, reducing pain, and improving the overall quality of life for patients.
Services Offered at Pinnacle Orthocentre Hospital
Pre-Surgical Evaluation:
At Pinnacle Orthocentre Hospital, we emphasize the importance of a comprehensive pre-surgical evaluation to ensure the most accurate diagnosis and appropriate treatment plan for each patient.
Our services include:
1-Comprehensive patient assessment: We take into account the patient's medical history, physical examination, and any previous diagnostic reports.
2-Diagnostic tests and imaging: We utilize advanced imaging techniques such as X-rays, MRI scans, and CT scans to assess the extent of the condition or injury.
3-Consultations with specialists: Our team of experienced orthopaedic surgeons and other specialists collaborate to provide personalized care and address any concerns or questions the patient may have.
Surgical Procedures:
Joint Replacement Surgeries-
We offer a wide range of joint replacement surgeries to alleviate pain, restore joint function, and improve mobility.
Our expertise includes:
1-Knee replacement: Total knee replacement or partial knee replacement procedures for conditions such as osteoarthritis or rheumatoid arthritis.
2-Hip replacement: Total hip replacement surgery for conditions like hip osteoarthritis or fractures.
3-Shoulder replacement: Surgical intervention to replace the damaged shoulder joint with an artificial implant.
4-Elbow replacement: Elbow joint replacement to treat severe elbow arthritis or fractures.
5-Ankle replacement: Surgical procedure to replace a damaged ankle joint with an artificial implant.
Arthroscopic Surgeries:
Arthroscopy is a minimally invasive surgical technique that allows for visualizing and treating various joint conditions.
We offer arthroscopic surgeries for:
1-Knee arthroscopy: Diagnosing and treating knee conditions like meniscus tears, ligament injuries, or cartilage damage.
2-Shoulder arthroscopy: Addressing shoulder conditions like rotator cuff tears, shoulder instability, or shoulder impingement.
3-Ankle arthroscopy: Evaluating and treating ankle problems such as ligament injuries or cartilage lesions.
4-Wrist arthroscopy: Diagnosing and treating wrist conditions like carpal tunnel syndrome, ganglion cysts, or ligament injuries.
5-Elbow arthroscopy: Surgical intervention for elbow conditions like tennis elbow or loose bodies in the joint.
Spine Surgeries Treatment:
Our orthopaedic surgeons specialize in various spine surgeries to treat conditions affecting the spine and alleviate associated pain.
Our spine surgery services include:
1-Discectomy: Surgical removal of herniated or damaged spinal discs causing nerve compression and pain.
2-Spinal fusion: Joining two or more vertebrae together to stabilize the spine and reduce pain caused by conditions like spinal deformities or degenerative disc disease.
3-Vertebroplasty: Minimally invasive procedure to stabilize fractured vertebrae and relieve pain caused by spinal compression fractures.
4-Kyphoplasty: Restoring vertebral height and relieving pain in patients with compression fractures.
5-Scoliosis correction: Surgical intervention to correct abnormal curvature of the spine.
Sports Medicine Surgeries:
We provide specialized surgical care for sports-related injuries, helping athletes and active individuals regain optimal function and performance.
Our sports medicine surgeries include:
1-ACL reconstruction: Surgical repair or reconstruction of the anterior cruciate ligament in the knee.
2-Meniscus repair: Repairing torn meniscus in the knee to restore stability and function.
3-Rotator cuff repair: Surgical repair of torn or damaged rotator cuff tendons in the shoulder.
4-Tennis elbow surgery: Surgical intervention to address chronic pain and tendon damage in the elbow caused by tennis elbow or lateral epicondylitis.
Achilles tendon repair: Surgical repair of a ruptured Achilles tendon, a common injury among athletes.
Trauma and Fracture Surgeries
Our orthopaedic surgeons are experienced in treating traumatic injuries and fractures, providing immediate and comprehensive care.
Our trauma and fracture surgeries include:
1-Fracture fixation: Surgical procedures to align and stabilize broken bones using implants like plates, screws, or rods.
2-Open reduction and internal fixation (ORIF): Surgical technique to realign fractured bones and secure them internally using implants.
3-External fixation: Temporary fixation of fractures using external devices like pins, wires, or frames.
4-Limb reconstruction: Surgical procedures to reconstruct and restore function in severely damaged limbs.
5-Pelvic and acetabular surgeries: Surgical interventions to treat complex fractures or injuries involving the pelvis or hip socket.
Best Orthopaedics Hospital & Surgeons in Thane
Good orthopaedic health is one of the most essential things to enjoy a physically and emotionally fit lifestyle and boost the quality of life itself. Whether you are an elderly, young adult or child facing disorders of bones, joints, ligaments or muscles, Pinnacle Orthocentre promises to provide world-class treatment solutions to you.
We have a highly-qualified, experienced and recognized team of doctors, consultants, specialists and surgeons. The use of advanced technology, latest tools and modern treatment techniques enables us to provide a full spectrum of top-notch orthopaedics services. In addition, we offer personalized, cost-effective and compassionate care to each and every patient. All this makes us one of the best orthopaedics hospitals in Thane and Mumbai.
Treatment and Medical Services

Orthopaedics is the branch of medicine that deals with the musculoskeletal system of the human body. Any injury, disease or disorder affecting muscles, skeleton and tissues, which essentially includes bones, joints, spine, ligaments, nerves, and tendons are treated by orthopaedic medical experts.
The highest medical standards, ethical practices and values are strictly followed by our team of doctors, nursing professionals and medical staff members keeping the patient's needs and health in mind. Moreover, expert advice is offered so that patients can make the best decision.
Both non-surgical and surgical treatment options are available at Pinnacle Orthocentre Hospital located in Thane. You can explore all the treatment and medical services available here and book an appointment today for the best care.
Team of Experts – Best Orthopaedic Doctors in Thane, Mumbai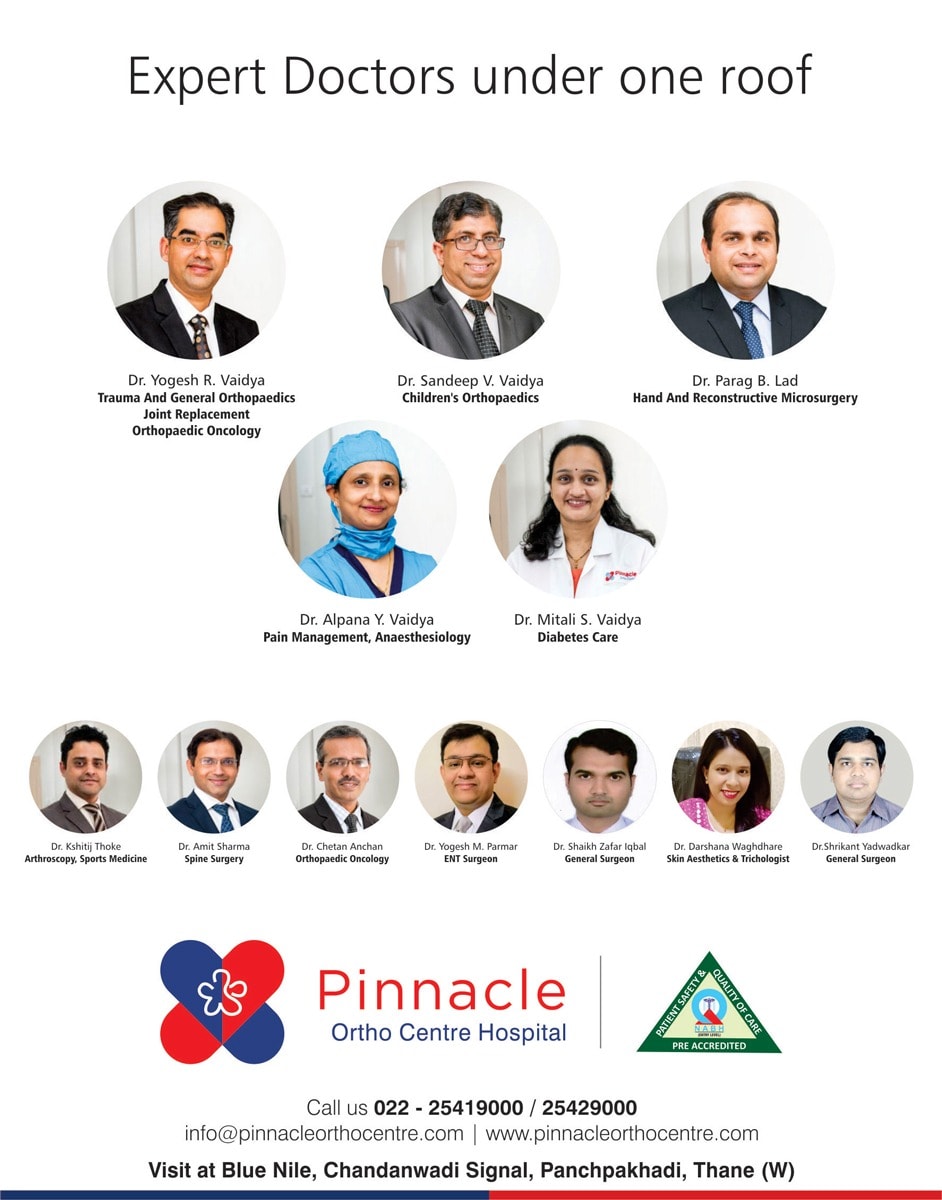 Pinnacle Orthocentre is one of the leading and trusted hospitals with the best orthopaedic doctors in Thane and Mumbai. We offer a complete range of medical services from assessment, diagnosis, treatment and management of different orthopaedic problems that affect a large number of people in India.
Our team of experts consist of some of the leading names in the medical field and provides best-in-class consultation, highest quality medical care and surgical procedures with the assistance of state-of-the-art infrastructure and medical tools. The vast collective experience of our experts and their treatment experience have been helping countless patients achieve the best possible medical outcome at affordable costs.
Your Trusted & Best Hospital for Orthopaedic Treatment in Mumbai
We are a leading name in children's orthopaedics and adult orthopaedics & joint replacement surgery and are well-known as the best hand surgery hospital in Thane and around the region.
We are striving every day to become the best and the most trusted name in Thane for patients with orthopaedic problems by providing effective and advanced knee replacement surgery, spine surgery, arthroscopic surgery, bone cancer treatment, hip replacement and other treatment services. Many of our patients have also rated us as the best total knee replacement hospital in Thane.
Enquire or Book an Appointment Today
If you have any doubts, questions or enquiries regarding the wide array of treatment options, medical approaches, advanced medical tests or scans or fees, get in touch with us.
Our dedicated team of management professionals will help you find the most suitable doctor at the earliest time possible.
Call us today for any enquiry, appointment and other details. 
Why Choose Us?
Different medical conditions can reduce the quality of life of patients. We go above and beyond to diagnose your problem correctly, examine it thoroughly and devise a customized treatment plan for you.
1- State of the art Infrastructure
2- Advanced Technology
3- Wide Range of Orthopaedic Treatment Services available under a single roof
4- Consultants and team of doctors who are leaders in their respective fields
5- Cost-effective and affordable treatment cost
6- Leading children's orthopaedics, adult orthopaedics & joint replacement surgery, hand surgery hospital in Thane
7- One of the best spine surgery hospitals in Thane