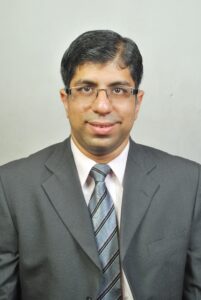 Name : Dr. Sandeep Vaidya
Designation: Consultamt Pediatric Orthopaedic Surgeon
E-mail: drsvvaidya@gmail.com
Present position:   
(1) Director, Division of Children's Orthopaedics,  Pinnacle Orthocentre Hospital, Thane
(2) Honorary Consultant, Department of Orthopaedic Surgery, Bai Jerbai Wadia Hospital for Children, Mumbai
(3) Consultant Pediatric Orthopaedic Surgeon, Jupiter Hospital, Thane
Educational qualifications:
(1) MRCSEd (UK) – Royal College of Surgeons of Edinburgh (2006)
(2) M.S. (Orthopaedics)  University of Mumbai (2001 to 2004); Seth GSMC and KEM Hospital, Mumbai. A degree awarded at the end of a three years accredited residency programme following  submission of a dissertation and an examination in Orthopaedics by the University  of Mumbai, India.  Stood second in the University of Mumbai. Post graduate teacher: Dr V J Laheri
(3) D'Orthopaedics – College of Physicians and Surgeons, Mumbai (2004)
(4) DNB (Orthopaedics) – Diplomate of National Board, Delhi, India
(5) MBBS University of Mumbai (1994 to 2000); Lokmanya Tilak Medical College, Sion, Mumbai. Secured first class with distinction in Surgery. Received Dr A.G. Phadke Gold Medal in Surgery.
Dr Sandeep Vaidya is a Pediatric Orthopaedic Surgeon with more than 10 years' experience in managing children and adolescents with bone and joint problems.
Having completed his MBBS from LTM Medical College, Sion, Mumbai, Dr Vaidya did his post-graduation in Orthopaedic surgery from the renowned Seth GS Medical College and Sion Hospital, Parel, Mumbai.
Thereafter he successfully completed fellowships in Pediatric Orthopaedics at BJ Wadia Hospital for Children, Parel; Korea University, Korea; National University Hospital, Singapore and Children's Hospital of Philadelphia, USA.
He has been practicing as Consultant Pediatric Orthopaedic surgeon since 2009. During this period he has conducted more than 4000 surgeries on neonates, children and adolescents with a variety of routine and complex orthopaedic conditions. His special interests include Clubfoot, Pediatric Hip disorders, Cerebral Palsy and Deformity correction.
He is also an avid academician and is invited as faculty at various conferences, workshops and symposia. He has to his credit more than 10 publications in international peer-reviewed journals of repute. His work on "Congenital Pseudarthrosis of Tibia", a rare but difcult to treat leg condition in children has received special recognition and won him the best paper award at the West India Regional Orthopaedic Conference (WIROC) in 2017.
Fellowship training in Pediatric Orthopaedics:
Pediatric Orthopaedics and Pediatric Spine; Korea University Medical Centre; 2005
Pediatric Orthopaedics; National University Hospital, Singapore; 2005-06
Pediatric Orthopaedics; Children's Hospital of Philadelphia, USA; 2006
Special interests:
Clubfoot
Deformity correction of upper and lower limbs
Brachial Plexus Birth Palsy
Hip disorders in children
Cerebral Palsy
Congenital Pseudarthrosis of Tibia
Textbooks written:
Paediatric Orthopaedic Trauma: Protocols and Techniques. Dr Mandar Agashe, Dr Binoti Sheth and Dr Sandeep Vaidya. https://amzn.to/3CThxRP
Awards:
Dr K S Masalawala Best Paper Award for podium presentation on "Short Term Results of a New Comprehensive Protocol for the Management of Congenital Pseudarthrosis of Tibia" at West India Regional Orthopaedic Conference (WIROC), December 2017
Special interests:
Congenital Pseudarthrosis of Tibia (CPT)
Pediatric hip disorders: Developmental Dysplasia of Hip (DDH), Perthes disease, Slipped Capital Femoral Epiphysis (SCFE), etc.
Pediatric lower limb
Angular deformities and limb lengthening
Cerebral palsy: Injection Botox, Single Event Multi Level Surgery
Metabolic bone disorders in children
Pediatric fractures
Memberships:
Pediatric Orthopaedic Society of India (POSI)
Bombay Orthopaedic Society (BOS)
Maharashtra Orthopaedic Association (MOA)
Royal College of Surgeons, Edinburgh, UK
Indian Medical Association (IMA)
Association of Medical Consultants (AMC)